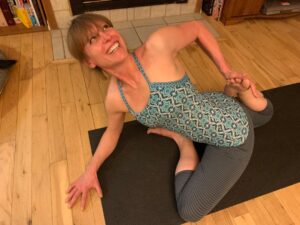 Let's Practice Together!
Join me online, Tuesday evenings this Fall.
One powerful and beautiful way of working with and looking at our yoga practice is that it is a way to clear out the places we feel stagnant or stuck – in body, mind, and heart. And then, perhaps, find ourselves in a place of more spaciousness and grounding. In these 45-minute practices, we'll work with asana, pranayama, mantra, mudra, and meditation held in this collective intention of clearing and grounding, along with any and all individual intention. I'm excited to move and breathe together again! All levels. Come as you are.
Email me or message me on Facebook or Instagram if you'd like to join, and I'll get the Zoom link to you.
Tuesdays, September 27th – December 20th*
5:30 pm – 6:15 pm Mountain Time
On Zoom
Pay what you can – Venmo @Julie-Mackiewicz
*There will be no practice on Tuesday, November 1st