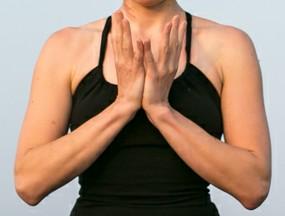 Join me on the last two Thursdays in February for 2 lotus-inspired practices to open your heart and hips!
Thursdays, February 18 and 25
On Zoom
5:30 – 6:45 pm MST / 7:30-8:45 pm EST
Week 1 (2/18): Open Your Lotus Heart
We can imagine our heart as a lotus flower, and through our practices, this lotus can unfurl and open. In this practice, we'll activate the opening of the lotus heart through shoulder openers, backbends, mudra, and mantra.
Week 2 (2/25): Journey Towards Lotus
We'll move through a steady, rooted, hip opening practice, taking the journey towards lotus pose (padmasana).
All are welcome.
Props: You may like to have block/s, blanket/s, and a strap.
A link will be sent out the day before the practices (2/17 and 2/24).
The practices will be recorded and a recording sent out within 48 hours if you can't make it live.
Individual practices, $10.
Or, register for both for $15.

Register for Week 1, Heart Opening here
Register for Week 2, Hip Opening here

Register for both practices, Heart and Hips, here
You can also sign up through Venmo @Julie-Mackiewicz (if you're new to classes with me, and I don't have your email, please send a good email, or the best way for me to send a Zoom link to you, thanks!)
Feel free to be in touch with any questions or concerns, julie@juliemackiewicz.com
Please don't let cost deter you from practicing, contact me.
Open Your Heart and Hips (2 online practices)